Model NO.: MY-F011

Trademark: MAYA

Transport Package: Carton

Specification: CE, ISO

Origin: China

Model NO.: MY-F011

Trademark: MAYA

Transport Package: Carton

Specification: CE, ISO

Origin: China

MY-F011 Top grade Infant Radiant Warmer price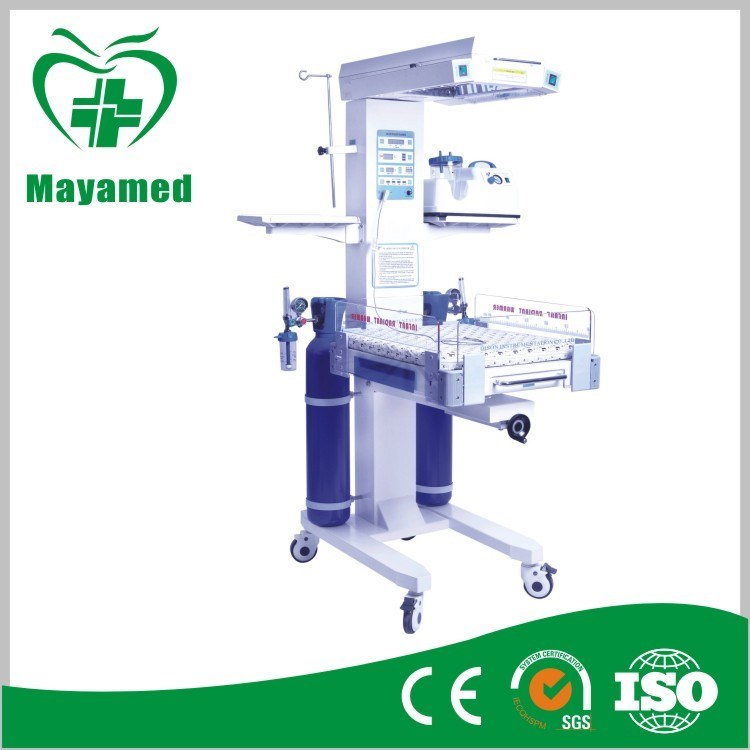 Features:

Microprocessor based servo controlled temperature system.

The microprocessor-controlled unit allows for three settings: pre-warm, manual or automatic.

Alarm functions for safety includes:

Power failure, temperature deviation,

Temperature sensor failure , over temperature.

APGAR timer to record therapy time

Convenient X-ray cassette under infant bed

Heater head can be adjusted + 90º horizontally

Tilt angle of infant bed is adjustable

Transparent protector folded

Alarms are audible and visual

A second thermal cut-out function for more safety

Skin temperature sensor failure protect function avoid over temperature

Our Services

1.For all your inquires about us, we will reply you in  detail within  24 hours.

2.We own professional team with professional attitude to recommend products and 

services  for you.

3.The  products  have one year free warranty,  after which they  can still be 

provided after-sales service.

4. We offer OEM services. And we can print your own logo on the product.

5. We have well-experienced engineers, who can help you better use our products.

Your satisfaction is our duty! It will be our great honor to serve you. We do hope 

we can offer you more help in medical field and build the long term business 

relationship with you.

FAQ

Q: How to buy your products ?

A: We have some products in stock , you can take away the products after you 

arrange the payment ; If we don't have the products in stock you want, we will 

start  production once getting the payment.

 

Q: What's the warranty for the products ?

A: The free warranty is one year from the date of commissioning qualified.

 

Q: Can we visit your factory ?

A: Of course, welcome to visit our factory if you come to China.

 

Q: How long is the validity of quotation ?

A: Generally, our price is valid within one month from the date of quotation. The 

price will be adjusted appropriately as the price fluctuation of raw material in 

the market.

 

Q: What's the production date after we confirm the order ?

A: This depends on the quantity. Normally, for the mass production, we need about 

one week to finish the production.

Packaging & Shipping

Packaging:Standard export corrugated paper board cartons or wooden box

Pallet: Plastic/ Wooden pallet

Shipping:By sea/ By air/ By courier (DHL, FEDEX, UPS, TNT)

MY-F011 Top grade Infant Radiant Warmer price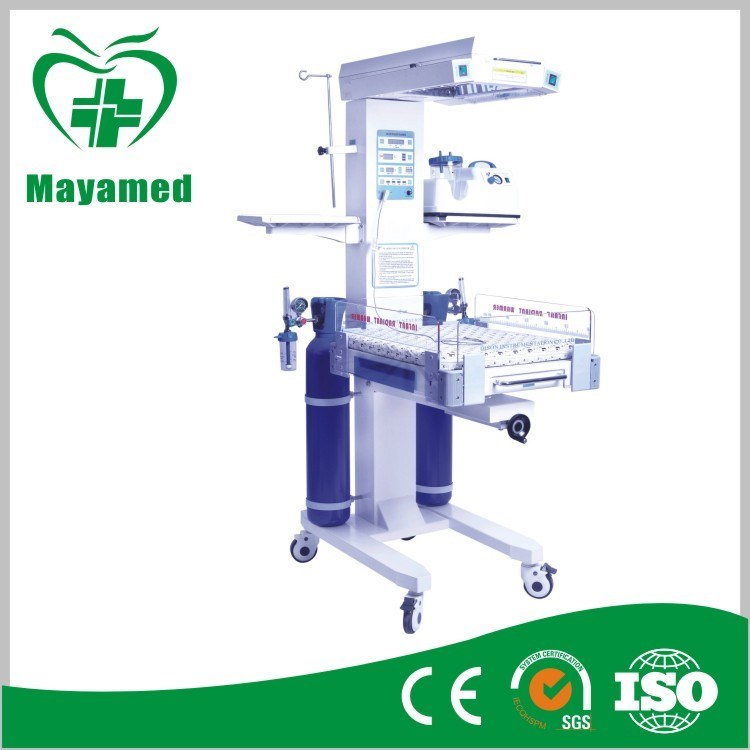 Features:

Microprocessor based servo controlled temperature system.

The microprocessor-controlled unit allows for three settings: pre-warm, manual or automatic.

Alarm functions for safety includes:

Power failure, temperature deviation,

Temperature sensor failure , over temperature.

APGAR timer to record therapy time

Convenient X-ray cassette under infant bed

Heater head can be adjusted + 90º horizontally

Tilt angle of infant bed is adjustable

Transparent protector folded

Alarms are audible and visual

A second thermal cut-out function for more safety

Skin temperature sensor failure protect function avoid over temperature

Our Services

1.For all your inquires about us, we will reply you in  detail within  24 hours.

2.We own professional team with professional attitude to recommend products and 

services  for you.

3.The  products  have one year free warranty,  after which they  can still be 

provided after-sales service.

4. We offer OEM services. And we can print your own logo on the product.

5. We have well-experienced engineers, who can help you better use our products.

Your satisfaction is our duty! It will be our great honor to serve you. We do hope 

we can offer you more help in medical field and build the long term business 

relationship with you.

FAQ

Q: How to buy your products ?

A: We have some products in stock , you can take away the products after you 

arrange the payment ; If we don't have the products in stock you want, we will 

start  production once getting the payment.

 

Q: What's the warranty for the products ?

A: The free warranty is one year from the date of commissioning qualified.

 

Q: Can we visit your factory ?

A: Of course, welcome to visit our factory if you come to China.

 

Q: How long is the validity of quotation ?

A: Generally, our price is valid within one month from the date of quotation. The 

price will be adjusted appropriately as the price fluctuation of raw material in 

the market.

 

Q: What's the production date after we confirm the order ?

A: This depends on the quantity. Normally, for the mass production, we need about 

one week to finish the production.

Packaging & Shipping

Packaging:Standard export corrugated paper board cartons or wooden box

Pallet: Plastic/ Wooden pallet

Shipping:By sea/ By air/ By courier (DHL, FEDEX, UPS, TNT)

Cayenne Pepper
Including horn pepper cultivation area is large, and shandong, shanxi, Inner Mongolia, jilin, heilongjiang area quite, in the above major planting base, the most excellent varieties of green semillon.Green fruit semillon pepper seeds bulky straight, high yield, disease resistance, strong adaptability, and very mature for his age.Ox horn pepper varieties are the best on the market.On the base of all have large area.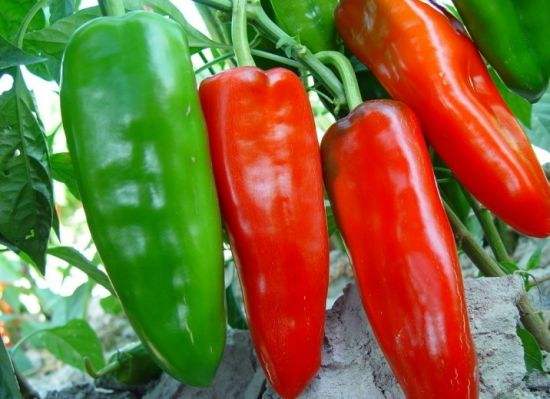 Cayenne Pepper Seeds,Natural Cayenne Pepper Seeds,Sweet Cayenne Seeds,Green Cayenne Pepper Seeds

Ningxia Bornstein Import & Export Co., Ltd , http://www.bornstein-agriculture.com